Fudgy Cocoa Brownies – A rich, fudgy, one bowl brownie recipe with cocoa as it's shining star. Comes together in minutes with every day pantry ingredients! Can be eaten on its own, with ice cream for a sweet treat , or used as a base for mousse cakes.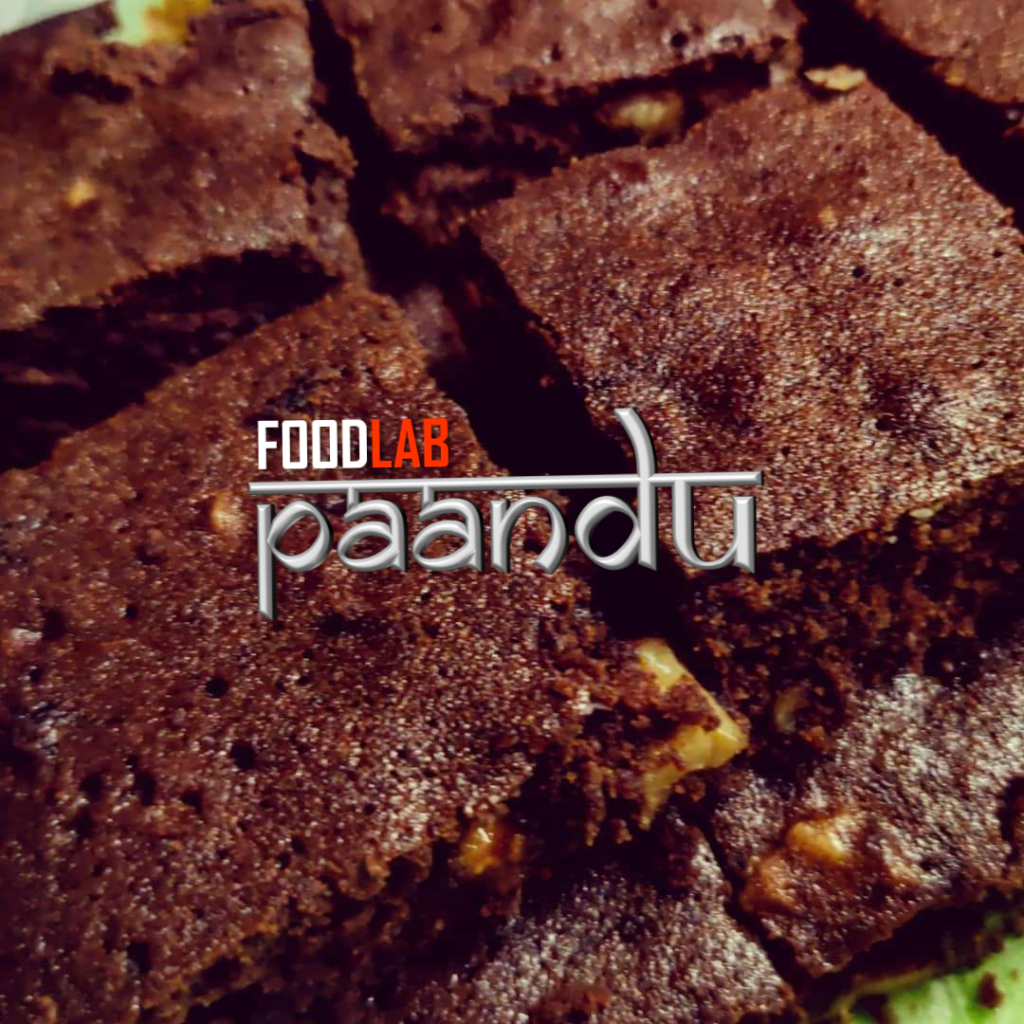 Fudgy Cocoa Brownies Dessert Heaven
There is no other dessert that hits the sweet spot quite like a gooey, chocolaty, nut studded brownie!
This recipe is my go to and uses straightforward ingredients most of us have stocked in our pantries. It can be thrown together and popped into the oven in 15 minutes flat. Clocking in at just under 150 calories per piece, less than half of a regular brownie, this is a treat you can indulge in without feeling too guilty.
A simple step by step method makes it suitable for newbie bakers and cooking with kids – mix the wet ingredients, sift the dry ingredients and gently combine the two, that's it! No separate fuss of melting chocolate or using multiple bowls, so less mess and less work. This recipe is easily doubled and tripled for larger batches.
Fudgy Cocoa Brownies Ingredients
Flour, sugar (castor or soft brown), cocoa, butter, eggs, salt, baking powder, walnuts, chocolate.
Fudgy Cocoa Brownies Tools Required
Two medium sized mixing bowls, a wire whisk (or stand mixer using both whisk and paddle attachments), measuring cups and spoons, a silicon spatula, a sieve, an 8×8 baking pan, parchment paper for lining the pan.
Fudgy Cocoa Brownies Tips &Tricks
I use a stand mixer, but this recipe is just as easy to make in a bowl with a hand whisk. You really don't need any fancy equipment for it.
All ingredients should be room temperature (except the butter which has to be hot). This is especially important for the eggs.
When measuring out the flour, cocoa and the sugars, use a spoon and level with a knife. Do not pack into the cup.
A mix of castor (granulated) sugar and soft brown sugar gives the signature fudgy, chewy texture and a brownie that is not overly sweet.
Melt in the mouth texture and shiny crust:
Melt the butter just before mixing it into the sugars; it should be very hot when you add it.
Beat the wet ingredients well for a minimum of three minutes until you have a creamy mixture that has lightened in colour.
Yes, I use a smidge of baking powder. I know it's kind of sacrilege for a brownie, but just 1/8 of a teaspoon gives the slightest rise and sponginess. Feel free to leave it out if you prefer a denser crumb.
Fold the dry ingredients in very gently with a spatula (or stand mixer paddle on stir) so you do not disturb the fluffy texture we have achieved with the vigorous beating.
Bake the brownies Goldilocks style: just right! Do not over bake the brownies or they will become dry and cakey. Always remember that brownies still bake in the residual heat once you remove them from the oven.
Stick a toothpick in the brownies at around the 15 minute mark to check if they are done. The toothpick should come out with a few sticky crumbs clinging to it. In our oven it normally takes around 17 to 18 minutes – get to know your oven and adjust the timing or temperature accordingly.
As soon as you remove the brownies from the oven, tap (don't whack!) the pan once or twice on the counter to kick start the crackling process.
Let the brownie rest for for 10 minutes in the pan before transferring it to the cooling rack.
Resist the temptation and wait for at least 30 minutes before cutting the brownie into pieces! Cut with a sharp knife (not serrated) using swift, clean cuts and wipe in between if required.
Add ins and flavourings:
There is no limit to what you can add to raunch up your brownies. We like to add little chocolate chips or melty chocolate chunks, chopped nuts, candied orange peel, butterscotch bits, and even broken up Oreos scattered over the top.
---
Fudgy Cocoa Brownies Recipe
WET INGREDIENTS
1/2 cup butter (unsalted), melted
1/2 cup castor (granulated sugar)
2/3 cup soft brown sugar
2 large eggs
2 teaspoons vanilla essence
DRY INGREDIENTS
1/2 cup plain flour (all purpose)
1/2 cup cocoa (good quality Dutch processed)
1/2 teaspoon salt
1/8 teaspoon baking powder
1/2 cup chopped walnuts
1/2 cup chopped chocolate or chocolate chips
Step by Step
Preheat your oven to 175ºC/350ºF. This should take about 15 minutes.
Lightly grease an 8×8 inch (20×20 cm) square baking pan and line with parchment paper.
In a medium mixing bowl, place both your sugars and melted butter (while still hot) and mix till well combined.
Add the two eggs with the vanilla essence and whisk vigorously for about 3 minutes until creamy and lighter in colour.
Sift together the flour, cocoa, salt and baking powder directly into the bowl, and carefully fold into the creamed mixture with a silicone spatula or wooden spoon. Be very gentle: the batter should be just combined. This is a crucial step and applies to most cake and muffin batters for a perfect texture.
Stir in chocolate chunks/chips, chopped nuts or any mix in of your choice.
Transfer the batter into your prepared baking pan; smooth out the top.
Bake for about 18-23 minutes. Keep an eye on the brownies, as they can over bake very quickly. Check with a toothpick at the 15 minute mark. The surface of the brownie should be soft and just barely set, with a little bit of give.
Remove from oven, tap on the counter once or twice and let it rest for 10 minutes. Then remove the brownies from the pan and place on a cooling rack. Wait for at least another 10-15 minutes before cutting into 16 equal pieces with a sharp knife.
Store in an airtight container for up to 3 days (or a week in the fridge), that is if they last that long!
Brownies can also be frozen, but we recommend consuming them within 2 months of freezing.
Recommended Ingredients and Tools
Learn more about Paandu Food Lab
Like our page on Facebook and subscribe us on Youtube to receive regular updates.