Travelling To Chennai During Lockdown – May 25, 2020: after two months of nationwide lockdown, sealing international borders and bringing domestic travel to a grinding halt, the Government of India gingerly lifted domestic air travel restrictions. People stranded in other cities, with no scope of returning home, or those separated from loved ones located far away in other States, could finally breathe a sigh of relief.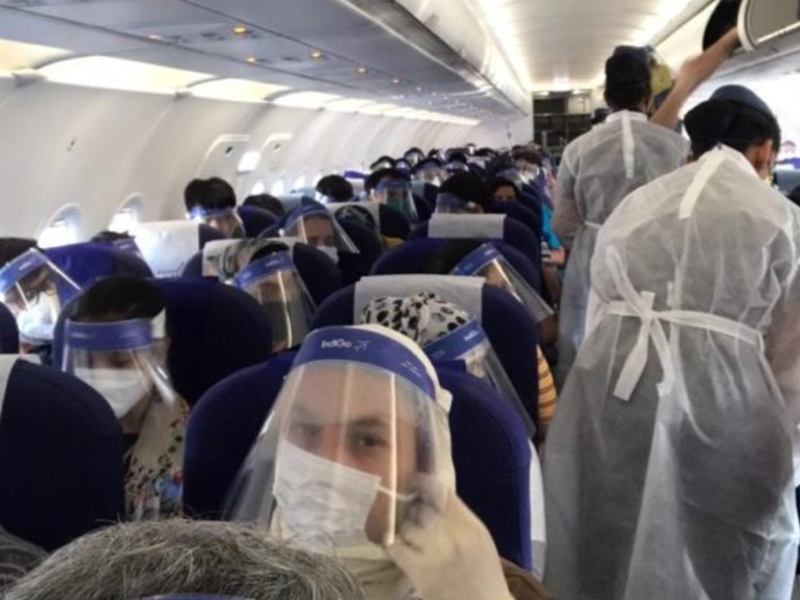 Like many others, I too decided to fly back to my hometown of Chennai from New Delhi. Before applying for the e-Pass, I consulted friends and acquaintances who had travelled before me, as well as a number of trusted sources with access to information. Getting clear advice with regard to the procedure for application of an e-Pass, for entry into Tamil Nadu in my case, turned out to be a challenge, with many twists and turns, and conflicting guidance from each person I spoke to. With this article I hope to provide clarity and capture my travel experience as well as the steps required for obtaining that coveted e-Pass granting permission for movement during lockdown.
---
Service Online Tamil Nadu E-pass
It is first of all imperative to note, that with COVID infection rates differing from State to State, each individual State has laid down its own rules and regulations for incoming passengers with respect to entry and quarantine.
State wise rules and regulations can be viewed on a number of sites, but I found the information on Indigo's website to be the most helpful.
Indigo FAQs Covid Travel Guidelines
These rules keep changing as the situation in each State unfolds, so please check the latest status of the rules for updates and amendments before planning any travel.
Since I was travelling to Tamil Nadu, I had to adhere to regulations as laid out by the state in order to apply for the e-Pass.
---
Procedure to be followed for application of the E-pass
Submission of mobile number
On entering the landing page (Service Online Tamil Nadu E-pass), you must submit your mobile number to receive an OTP. After entering the OTP, the page displays various options for different modes of transport into Tamil Nadu (air, road, rail etc.). Click on the "Air Travel" option.
Submission of personal details
You are required to fill out a form with your personal details, reason for entering Tamil Nadu etc.
Submission of vehicle details
It is mandatory to enter details of the vehicle coming to pick you up along with information of the driver. I am not aware of how it works if you were to use a taxi service, since I had family picking me up.
Submission of ticket and boarding pass details
You have to upload a scan of your ticket and boarding pass with the airline allocated seat number. Therefore it is advisable that you apply for the e-Pass after booking your ticket so that when you land in Tamil Nadu, you do not face any issues while exiting (more on that later).
5. Submission of health declaration
Thereafter, you have to provide a self-declaration with respect to your current health conditions.
Form submission
After completing all mandatory details and submitting the form, you will be given a reference number. My e-Pass got approved within a time frame of 4 hours. You can track the status of your pass application on the website.
Mandatory quarantine
The e-Pass states that you must undergo a mandatory 14 day quarantine period at home (if home quarantine facility is available), or else opt for the paid/governmental institutional quarantine. You may also be subject to a COVID test at your place of residence.
Service Online Tamil Nadu E-pass
Travel Experience Under Covid Restrictions
Aarogya Setu app
Installation of the Aarogya Setu app is mandatory in order to certify your health status. Ensure you have this downloaded and installed on your phone before reaching Delhi Airport. In actuality, none of the Delhi airport personnel validated that passengers had installed the app.
Airport arrival
It is advised you reach the airport 3 hours prior to your flight in order to avoid facing a huge crowd at check-in. Before entering the terminal, your bags (both check-in and hand luggage) are passed through a machine for sanitization. Upon entry into the terminal, there is a thermal screening wherein each passenger's body temperature is recorded before being allowed to proceed to the check-in counter.
Check in
The procedure for check in is pretty much the same as a regular check in, except that you need to do a web check in prior to reaching the airport, and fill out a self-declaration form certifying your health. Needless to say, you have to wear a mask at all times (N-95 preferably). At the check in counter, drop your bag and show your boarding pass. The check in staff print a baggage tag, that you yourself have to affix to your bag to ensure a contactless baggage drop.
Security check
Thereafter, proceed to the security check where everyone has to maintain the minimum 6 feet social distancing norms. However, this was being flouted openly and none of the security personnel made any objections to this. Take responsibility for yourself, and tell people around you to keep distance; it's your health and that of whom you come in contact with at the end of the day.
At this point I had donned gloves because you will come in contact with the trays provided by the airport for placing your digital devices and hand luggage. There is no saying how many people have handled those trays and how and when they are being sanitized. The security check was smooth, the security personnel were wearing full PPE kits with suit. The metal scanner was elongated in order to ensure that the personnel do not come in close proximity of the passengers. Collect your bags and head to the Departure gates. All shops and food concessions at the Delhi Airport are operational, so you can eat and shop at your own peril, bearing in mind that no food will be offered on board.
Boarding
Although I had been advised that I would not be permitted to board my flight without a valid e-Pass, there was no checking of the same at Delhi Airport while departing.
Boarding of the flights happens in a phased manner. All flights are allocated an aerobridge so that crowding in buses is avoided. While boarding, you have to once again undergo a thermal screening. If your temperature is normal, you can proceed on board. In the case of a raised temperature you will be barred from travelling.
Onboard safety protocols
The airline provides you with a face shield, surgical mask and hand sanitizer. If you're the unlucky person who got the middle seat, you will be provided with a body gown/suit, since social distancing cannot be exercised with all 3 seats in the same row occupied. The flight experience was normal, though no food is served by the airline nor permitted to be eaten on board, unless you have a medical condition.
Arrival
Upon landing, de-boarding of the plane is also conducted in a phased manner to ensure that there is no over-crowding. Once you have deplaned, there is another thermal check and you are asked a number of routine questions. Thereafter, a stamp is placed on your hand stating the date of arrival, being the start date of your mandatory 14 day home quarantine.
I noted counters set up for on the spot application of the e-Pass, however as I have mentioned earlier, it is prudent to apply for the Pass before you travel. While exiting the airport, I saw a number of passengers that may have been stranded due to their e-Pass on arrival application being rejected. I do not know what the grounds for rejection were; it is possible they were displaying mild COVID symptoms, or their credentials were not in order.
Exit procedure
Proceed to the baggage carousel to collect your bags and exit the airport.
The e-Pass carries a QR code that has to be scanned by airport security while exiting. A copy of the pass also needs to be pasted on the front window of the vehicle coming to pick you up, else it will be barred from entering the airport.
I thank you for your time and hope this summary of my travel experience is helpful and ensure you have a smooth experience should you decide to venture on a domestic flight.
Vaarish K Sawlani
Recommended Travel Essentials – Covid Lifestyle