Elon Musk Tesla Stock News | Practice what you tweet
Elon Musk Tesla Breaking News
Maverick billionaire entrepreneur Elon Musk got himself into some pretty hot water last month when he tweeted about taking tech company Tesla private when its shares hit $420 and claiming funding was secured.
This tweet triggered a trading frenzy of Tesla shares, shooting its price up by more than 6 percent forcing NASDAQ to suspend trading of the share for an hour and a half until the company issued a statement. That day, Tesla's stock price closed at $379.57.
In actuality Musk hadn't secured any funding commitments, nor did many key officials at Tesla know anything about Musk's plans for privatization. Tesla investors were left scratching their heads and feeling unsettled by his bombshell announcement. In fact industry commentators observe that this was Musk hitting back at short sellers of Tesla stock.
The Securities Exchange Commission (SEC) was not amused, and filed a lawsuit against Musk and Tesla citing securities fraud allegations.
They railed against Musk's irresponsible behavior in releasing false and misleading information, in spite of being fully aware of the contrary.
Musk refuted these allegations stating that he posted those tweets acting in the best interests of truth, transparency and Tesla investors.
The SEC, initially wanting to permanently bar Musk from serving as an officer or Board member of any publicly traded company, ultimately came to a tough settlement and imposed a fine of $20 million. Tesla is lucky it escaped being sued for fraud.
Under the settlement, Musk has 45 days to step down from his role as Chairman of Tesla for a period of 3 years, but is allowed to retain his position as CEO. This has raised eyebrows since, as CEO, Musk will still control Tesla's day to day operations.
It is surmised that the SEC agreed to this in order to shield Tesla and its investors from further financial loss as a result of the lawsuit.
Two independent directors will be appointed to oversee the Board, and Musk still remains one of its members.
Furthermore, Musk's communications with investors have to comply with stringent company communications policies, and will be monitored by a Board appointed committee.
The SEC settlement does not rule out the Department of Justice from filing a criminal complaint, the feasibility of which is currently under investigation.
Coming back to the $420 share price – how did Musk reach at this mythical mark? He reportedly added 20% to the company's share price, came to $419 and rounded it up to $420. In marijuana culture 420 is code for smoking cannabis. An interesting premise since Musk was recently chastised by not only the general public but also Tesla employees for smoking a joint during a podcast. By all accounts Tesla employees are tested for drug use, so this was considered to be the height of hypocrisy and a slap in the face. In fact wagging tongues even go so far as to imply that the company's drug tests are used as a means to terminate Musk's detractors.
Elon Musk Marijuana Controversy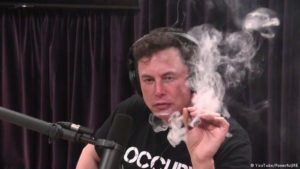 The marijuana controversy came hot at the heels of another demonstration of Musk's erratic behavior – he is currently embroiled in a public defamation suit filed by the British diver involved in the Thai cave rescue.
Inspite of his bad boy persona and messy love life, Musk remains a charismatic and creative visionary, propelling Tesla and SpaceX into the next realm of possibilities. He elicits the same hero worship as Steve Jobs, and like Jobs we forgive him his constant trespasses, excusing his provocative behaviour as part of his undisputed genius.
Trending: Elon Musk Sec Suit, Elon Musk Security, Elon Musk Sec Cnbc, Elon Musk Security Detail, Elon Musk Secured Funding, Elon Musk Sec Reddit, Elon Musk Secured Financing, Elon Musk Sec Eminem, Can Elon Musk Tweet That The Sec May Have An Opinion, Elon Musk Tesla News, Elon Musk Tesla Breaking News, Elon Musk Tesla Stock News, Elon Musk Tesla Latest News, Elon Musk Marijuana Controversy
Why read about this on Paandu?
Sources
https://www.shrm.org/resourcesandtools/legal-and-compliance/state-and-local-updates/pages/elon-musk-marijuana-use-tesla-drug-policy.aspx
https://www.bbc.com/news/business-45696150
https://www.vox.com/2018/9/27/17911826/elon-musk-tesla-sec-twitter-lawsuit
https://money.cnn.com/2018/09/29/technology/business/elon-musk-tesla-sec-settlement/index.html
https://money.cnn.com/2018/09/29/technology/business/elon-musk-tesla-sec-settlement/index.html
https://www.dw.com/en/tesla-shares-take-a-hit-after-elon-musk-smokes-marijuana/a-45401584https://www.cnbc.com/2018/09/11/former-big-bull-on-tesla-says-the-stock-is-no-longer-investable-due-to-elon-musks-behavior.html