NBA Legend Kobe Bryant Dies Tragically – Lakers' Kobe Bryant Dies In Calabasas Helicopter Crash, 5 Confirmed Dead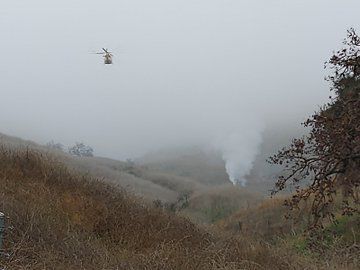 Kobe Bryant, the LA Laker who became one of basketball's all-time greats and went on to become an award winning Oscar-producer, was killed today in a helicoper crash. The crash happend in Calabasas, California and details are coming in.
Alongwith Bryant in the helicopter there were at least three others, and authorities said 5 people are confirmed dead. Vanessa, Bryant's wife, was not travelling with him at that time.
BREAKING: @NBCNews Special Report: Basketball legend Kobe Bryant is dead, LATimes and ESPN report. https://t.co/PRbxcvAu6s

— NBC News (@NBCNews) January 26, 2020
The fire that resulted soon after the helicopter crash triggered emergency personnel to the scene. The Los Angeles County Sheriff's Department said the fatal crash happened around 10 AM in Calabasas, a city located 30 miles northwest of downtown Los Angeles.
The helicopter was a Sikorsky S-76, which was owned by Bryant.
Bryant has used a helicopter to move around California from the time dating back to his active days as a Laker. Bryant is survived by his wife Vanessa, and four daughters — Gianna, Natalia and Bianca and their newborn Capri.
Kobe Bryant was born 23rd August, 1978 in Philadelphia, PA, the son of ersthwhile NBA player Joe "Jellybean" Bryant.
Bryant was the recepient of an Oscar in 2018 for best short animated film, which was built around a short poem he wrote on his feelings about basketball.
Hastags: #KobeBryant #KobeRIP #Kobe #Lakers #NBA #Kobe #RestInPeace
Sources: Deadline, NBC News, Twitter
Queries: Paandu,Paandu News,News Paandu,kobe bryant,kobe bryant helicopter crash,kobe bryant death,helicopter crash,kobe bryant dead,kobe bryant helicopter,kobe bryant died in helicopter crash,kobe bryant dies in helicopter crash,kobe bryant killed in helicopter crash,kobe bryant lakers died in helicopter crash,kobe bryant dies,kobe bryant died,kobe bryant killed,helicopter,kobe bryant killed in helicopter crash near los angeles,