Donald Trump Snubs Narendra Modi | Why Was The Republic Day Invitation Declined?
The president of the USA Donald Trump has apparently turned down Narendra Modi government's invite to be the chief guest at India's 70th Republic Day spectacle to be held in Delhi. White House press secretary Sarah Sanders in a media briefing about a month after receiving the invitation had conveyed that decision had not yet been taken about accepting it.
Several reports now claim that US has informed India's National Security Advisor Ajit Doval in writing that Trump will not be able to join Narendra Modi at the Republic Day function.
India has not put a stop to it's procurement of oil from Iran despite the US government placing a host of sanctions on that country. Political analysts have speculated that this could be the reason why Trump has declined the invitation.
The Russian S-400 long-range missile system proposed purchase by the Modi government culd also be a factor. This missile system is considered by the United States as a potential threat to power equations in the world.
The deal to acquire the missile was contracted earlier this month when Vladimir Putin visited India and met Modi earlier in October 2018. Prior to the ratification of the deal, the Trump administration had cautioned countries that anyone engaging with Russia defence and intelligence sectors could face sanctions from USA under their Countering America's Opponents Through Sanctions Act (CAATSA). India went ahead with the Russian missile deal, nevertheless.
Donald Trump Snubs Narendra Modi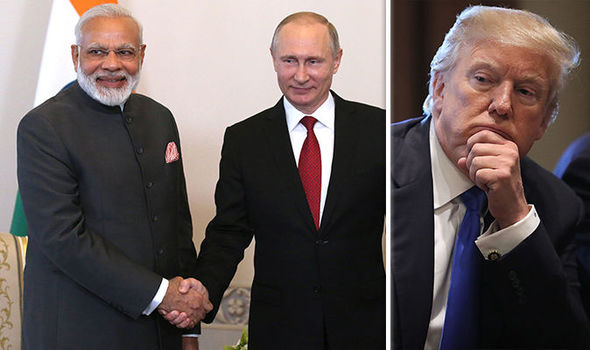 News18 reports that the US government has diplomatically cited 'domestic obligations', including the State of Union address planned to be delivered about the same time as the reason Trump has to decline the invitation.
Mint reports that visitors for Republic Day are usually very carefully chosen from countries which are of tactical importance to India. Trumps predecessor Barack Obama had visited India twice for Republic Day.
Trending: Us President Donald Trump,donald Trump,republic Day,republic Day Celebrations,india Invites Donald Trump,india Invites Us President Donald Trump,donald Trump News,india Republic Day,donald Trump Turns Down India,donald Trump Invited For Republic Day Celebrations,republic Day India,trump Invited For Republic Day,us President,news,breaking News,latest News,raj News,raj News Telugu,sushee,sushee News,sushee Media, Donald Trump Snubs Narendra Modi
Sources: huffingtonpost.in, dunyanews.tv, express.co.uk
Why read about this on Paandu?