Nifty 2 Jan Opening Notes and Put Condor Trading Idea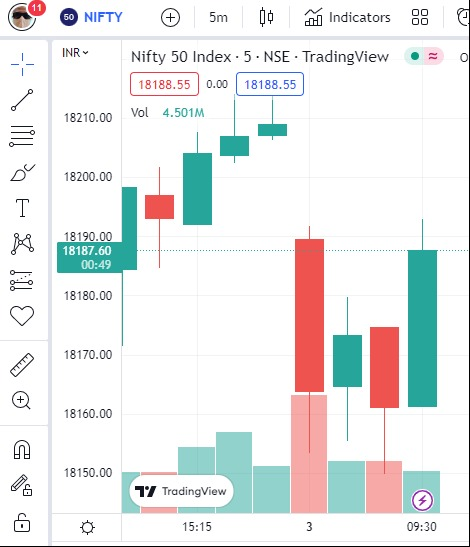 The 4th opening candle has shown a decisive upside which normally indicates a positive outlook for the day. However since SGX Nifty and global cues have been volatile and confusing, a note of caution is what some analysts are suggesting.
Smart intraday traders with high risk appetite may look at the third candle low as their SL on a long futures index trade.
For the more conservative traders with lower risk appetite taking a hedge maybe a good idea. Something like the strategy illustrated below:

This pay off chart has been built on definedge strategy builder. Here the intention is to maintain a bullish view by going short using the 18200 PE and hedging it with going long with the 18000 PE. This indicates a 62% probability of profit and a 10% return in 2 days (since the expiry is 5th Jan 2022).
nifty 2 jan opening bell, put condor trading idea, opening bell today nse, nifty 2 jan opening notes, nifty 2 Jan midday, nifty 2 jan opening bell, nifty 50 opening bell, nifty opening bell, nifty opening bell today, nifty future opening, nifty last opening, nifty short strangle illustration, nirmal sawlani disclaimer,