Tigress Anvi Slayed by Indian Blue Blood Hunter | Find Out Who Was Acting in Self Defense
Tigress Anvi the mistaken self defense
Avni T1 or Avni, the aberrant tigress has been accounted for, shot in self defense, but as to who was acting in self defence remains a moot question.
She has paid in full for her alleged crime, preying on human beings, something which doesn't go against the laws of nature, but against the laws of man. The death of this tigress which has raised a furore on the social media and elsewhere, will no doubt die down in a fortnight or so and soon the whole episode will be largely forgotten.
It is true that the gunning down of the tigress may have removed a menace, but the way it was done leaves a bad taste in the mouth, and a few questions yet remain unanswered.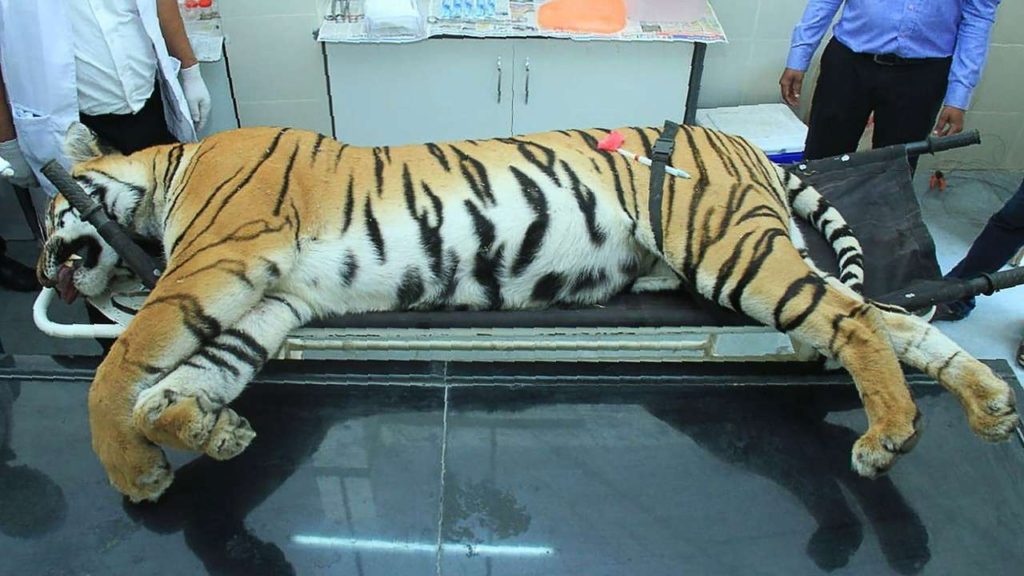 The "so called" Blue Bloods in India have license to kill and are above the law!
First and foremost who is this father and son duo with a record number of animal kills who gave the tigress her quietus. In a country which has banned all sorts of hunting, from where did they get their shikar experience. Shooting at a moving target in a rifle range or similar facility, is much more different from gunning down a quarry in the jungle, where umbrageous trees exaggerate shadows and the undergrowth offers much hinderance to movement, while the prey is usually on the alert and ready to take flight at the first sign of danger. Such a skill can only be acquired through steady practise, starting from small game and later moving on to the larger ones.
It is true that the Nawab is a member of an organisation called WTF, no it isn't 'What the **?' but Wildlife Tranqiforce, an Organisation for Wildlife Welfare, Tranquillising & Rescue ; so its website states, but as to what the organisation has achieved, the website isn't too clear.
The Indian Forest department seeks the help of private hunter – the lamest of lame excuses!
The second question is that did the forest department have to go and seek the services of a private hunter, doesn't it have trained personal for this job however distasteful it may be. Wouldn't such an action encourage the emergence of bounty hunters with questionable antecedents, and promote a now despicable sport (using the present tense, for modern firearms and appurtenances do not offer the quarry a sporting chance).
How will Anvi's death result in her cubs turning man eaters?
The third is about the fate of Avni's two cubs, will they starve to death, or will they meet a fate similar to that of their mother, for tiger cubs without the training of their mother cannot kill their legitimate prey and may turn their attention on easier quarry, human beings.
And the last but most important, what is the forest department in Maharashtra and elsewhere going to do about preventing further such occurrences. It is an open secret that shrinkage, fragmentation, and degradation of habitat are the main causes for all man-animal conflicts.
It is a paradox that the forest department which only too willingly engages the services of a hunter with a dubious record to track and kill an errant carnivore, usually turns a convenient deaf ear to well meaning individuals and organisations when it comes to issues such as habitat restoration and reclamation.
According to a report in the Indian Express, Nawab Junior seem to be operating a family business in the Nilgiris.
Can anything be done to stop this cruelty against animals
Do Indians have the intent and the means to send a stern message or apply the law, or are they going to turn a blind eye just as the Forest department has been doing?

Trending: Tigress Anvi Slayed by Indian Blue Blood Hunter, Find Out Who Was Acting in Self Defence, Tigress Anvi the mistaken self defence, T1 or Avni, the aberrant tigress, Anvi preying on human beings, Father and son duo, Nawab kills Anvi, Wildlife Tranqiforce, Organisation for Wildlife Welfare, Tranquillising & Rescue, Union Minister Maneka Gandhi, resignation of Maharashtra Environment Minister Sudhir Mugantiwar, Chief Minister Devendra Fadnavis.
Source: Dr P Vasanthan (Conoor, Nilgiris), Manoramaonline, DNA India
Why read about this on Paandu?