What is CBD Arthritis cream and how effective is it?
What is CBD Arthritis cream?
The cannabis plant comprises of many diverse chemical compounds. The element known to cause the "high" when people consume it is called tetrahydrocannabinol (THC). CBD, is another major compound of the cannabis plant, but it doesn't cause this feeling of "high". Many support groups and some scientists believe CBD may actually offer several health benefits.
In the USA, CBD is legal at the federal level, but only in products where the strength is less than 0.3% THC. In addition, various states have differing additional guidelines. Some require a doctor's prescription, while others allow selling CBD as a supplement or even a beauty product.
Is CBD legal in the USA?
CBD products derived from Hemp with less than 0.3% THC are legal federally but still prohibited under some state laws. CBD products derived from Cannabis, on the other hand, are illegal federally but permitted under some state laws
Does CBD cream help with arthritis?
The Arthritis Foundation say that study on CBD for arthritis is encouraging. While several animal studies show promise, currently, however research on the beneficial effects of CBD cream on humans is still ongoing.
Most studies on CBD suggests its primary use is not as an anesthetizing or pain relief agent. Instead, it helps decrease the swelling that causes arthritis pain. This means it may require long-term use and may result in longer duration of relief.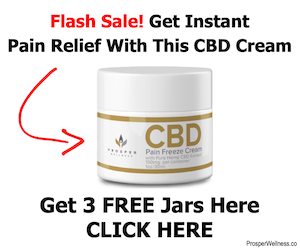 An older study conducted in 2000 on mice with laboratory-induced arthritis found that oral CBD — as opposed to CBD cream — could also ease arthritis.
Another study which was conducted in 2015 also on lab-rats revealed that they displayed fewer pain-related behaviours and had fewer inflammation markers after 4 successive days of treatment with CBD cream.
How is CBD cream used for Arthritis?
Proper use of CBD cream varies on the product. Below are some common tips for use:
Follow the guidelines on the label and avoid using more than the suggested amount
• Try massaging the target area while applying the cream to stimulate blood flow and relieve tension.
• To see the most substantial benefits, use CBD cream along with conventional remedies, such as disease-modifying agents.
• A person may also have to make use of CBD cream for several days to see results.
• Note that CBD cream should not substitute any medical therapy unless a doctor advises it.
Does CBD cream have side effects?
At mild doses, CBD is safe for most people and should not trigger severe side effects. However, like all drugs, the substance may interact with other medications and spark adverse effects, including some serious ones.
Some popular side effects include:
• Feeling drowsy or distracted
• Minor stomach complications such as diarrhoea or nausea
• Mood shifts such as depression or irritability
• Similar to other drugs, CBD may also trigger an allergic response, particularly in people with tree or nut allergies.

In short it is safe to say the CBD cream is an effective and safe alternative therapy for pain and other ailments. Even though research on humans is still ongoing, the existing studies on animals indicates a positive pattern. This article is just to illustrate the emerging trends and treatments using CBD and readers are advised to do their own research and/or seek professional medical advice before buying off the shelf CBD products.
Hashtags:#cbd #cbdhealth #cbdlife #cbdproducts #cbdheals #cbdcream